Do you plan to visit Wien or Vienna soon?
The country of Austria is beautiful in many ways and Vienna is often the best place to kick start your Austrian trip. But before you get all to excited to pack your bags and book your flight, there are a few things you need to know first to ensure a smooth and successful trip.
When is the Best Time to Visit?
Since the climate of Vienna is continental, the city of Vienna can get hot in summer months and cold when the winter season kicks in. You can expect for an amazing and unique experience if you get to see Vienna as the autumn leaves fall, as snow covers everything, or as the summer sun illuminates the whole place.
The Christmas Market is open during winter that will warm you with hot red wines and lights. In the summer, you can also spend some time on terraces or in busy parks while enjoying a refreshing drink.
How to Get to Vienna
There are a lot of different means of getting to Austria thanks to its location in Central Europe. Flying is the easiest and fastest way to get to the country, with United and Austrian airlines having direct flights from the United States while Jet2, EasyJet, and Ryanair offer direct flights from the United Kingdom.
The moment you arrive at the airport, you have the choice to catch an Uber or taxi that will take you straight to your hotel. You can also head out to the train station located on the airport terminal's lower floor where you can catch train that will whisk you off to the heart of the city.
If you have plans to travel around Europe, it is also easy to catch train from Prague, Budapest, and Bratislava, or hop on a bus from several nearby cities, and the most famous travel route is Budapest.
Best Way to Get Around Wien
Travelling to and around Vienna is fast and easy. However, after you all those long walks and grabbing a bite of the delicacies of this Austrian Capital, you can always take a break by using the public transport system.
There are trams and buses that run from morning to night so you can be sure that you can move around the area easily and quickly. After midnight, you can still ride the special night buses that run in the city center's main streets.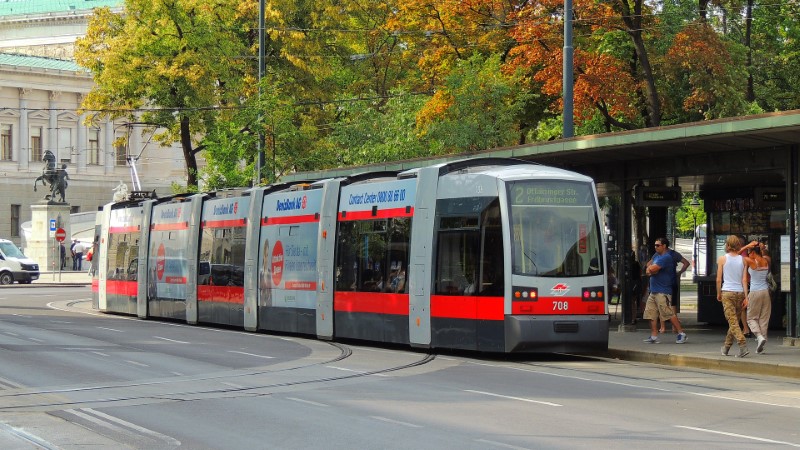 The metro stations are also clean with no crowds and everything clearly marked. You can be sure that no one will be pushing you just to enter the subway before you. You can even find empty seats right away with no need to hurry.
Taxis are also very affordable in Vienna although it is almost impossible to catch one on the street. Therefore, it is usually to hail taxi at a hotel or restaurant or you can also look for the special taxi areas where you can find them waiting.
Where Can You Stay in Vienna?
There are several districts that made up Vienna and it is fairly contained, letting you reach different attractions without any hassle. You don't need to stress yourself out when looking for a great place to stay because there are lots of options you can choose from.
For Lovers of Historical Attractions
If you want to be right in the heart of the city, your best choice is District 1 that is a short distance away from the top attractions like the Stephansdom, the Graben, and Hofburg Palace.
For Fans of Outdoor Areas
Prater Park is found in District 2 and is perfect for strolling to burn off the tasty foods you can eat here.
For the Shopaholics
District 6 and 7 are always the main districts for people who are searching for Wien's largest shopping street with a selection of restaurant options. It is another amazing place where you can stay since District 1 is also within walking distance from several areas with the tram and subway system linking you easily to the historical center.
For the Opera and Theater Enthusiasts
District 3 and 4 are no doubt the best districts where you can choose to stay. These are near several attractions such as the Naschmarkt, Stadtpark, Belvedere, and most of the opera houses and theaters in the city.
This is also right below District 1, which means that a hotel here will be a great option if you want to be close to the sights with no need to stay in touristy spots. It is also the best place to be during winter since Belvedere Palace turns into a sparkling Christmas Village.
What to Eat in Vienna?
Once you have spent all those hours exploring outside, you deserve a quick and delicious break to try some of the most amazing dishes of Austria.
Don't miss the chance to try Wiener Melange, the local coffee in Wien. This is a type of espresso with milk foam and steamed mill and pair it with Wiener schnitzel, a popular local dish you can have with veal or pork. You should also take a sip of the local beer and grab a bite of the open sandwiches that you can find in a café at the city. Take this opportunity to try the mouthwatering Torte cake available at Hotel Imperial Vienna and many cafes.
Just take note that many restaurants in the area only accept cash so don't just rely on your cards. If you like, you can also leave tips. While this is not expected, people still appreciate it.
If you prefer to cook your own food during your vacation in Vienna, keep in mind that most of the grocery stores in the area are closed during Sundays. As such, it is important that you stock up on the food items you need before that day.
Wien is no doubt a wonderful place because it got everything in store for everyone. Remember these tips for the most memorable trip in Vienna!
Tips To Remember During Your Wien Trip
The city of Salzburg is known to be one of the exquisitely beautiful cities of Austria. But there is one good reason why a lot of people are excited to see the city. This city is also musically gifted that even if you don't have any musical inclination, you will surely have a fun time exploring the place. 
Whether you have an innate love for music, there are a lot of things that await you the moment you arrive in this Austrian gem.
Posts from the same category: